Main content starts here, tab to start navigating
Happy Hour M-F till 7pm
$2 off cocktails
$2 off draft beer & wine
$1 off bottle/can beer
Hot Drinks
Mulled Apple Cider

Apple Cider brewed with spices. Choose whiskey, rum, brandy or mezcal

$13

Mulled Wine

Red wine brewed with spices, sugar, brandy & orange twist

$13
Tequila & Mezcal
Dalia Margarita

100% de agave Lunazul blanco tequila, Cointreau, fresh lime juice

Add Strawberry, Raspberry, Passion Fruit, blood orange, Guava, Coconut or make it spicy

Salt or Tajin

$14

The Holy Union

Award Winning Cocktail! San Cosme Mezcal joven, Benedictine, grapefruit, lime, fig puree, habañero/sage syrup & "holy water" (Saline).

$15

Charo's Kick

100% de agave Lunazul blanco tequila, El Buho mezcal, fresh lemon juice, *orgeat, lemon twist

*orgeat contains nuts

$14

Dalia Oaxaca Old Fashioned

El Buho mezcal, Lunazul reposado, Cointreau, creme de cacao, dry curacao, dry vermouth, chocolate bitters

$14

Mezcal Spritz

El Buho Mezcal, Lychee, lemon juice, strawberry, simple, cava

$14

Sloe Pasión

Del Maguey Vida mezcal, Hayman's sloe gin, passion fruit, lime juice & simple syrup, Tajin rim

$14
Whiskey
Mai Tai PA

Four roses bourbon, demerara, lemon, passion fruit, Angostura bitters, Draft IPA

$14

Smashing Pumpkins

Four Roses bourbon, pumpkin puree, maple syrup, lemon juice, allspice dram

$14
Rum & Cachaca
Winter Red Sangria

Red wine, Plantation dark rum, Cointreau, allspice dram, apple cider, orange juice

$13

Bar Dalia Punch

Cruzan coconut rum, Sailor Jerry spiced rum, Velvet Falernum, mango juice, pineapple juice, lime juice, Goslings dark rum float

$13

The Picasso

Ten To One white rum, dry curaçao, coconut, pineapple, lime, demerara, Angostura bitters

$14

The Salvador

Dos Maderas 5+3 rum, coconut, lime, passion fruit, *orgeat, allspice pimento bitters

* Orgeat Contains Nuts

$14

Jamaican Me Navy

Smith & Cross Jamaican rum, Plantation white rum, lemon, *orgeat, demerara, Angostura bitters

* Orgeat Contains Nuts

$14

Smoked Pineapple Island Old Fashioned

Plantation pineapple rum, demerara simple syrup, orange bitters & Angostura bitters

$15

Guava Caipirinha

Aguaviva Cachaça, fresh lime juice, Guava Juice, simple syrup

$14
Gin, Pisco & Vodka
St. Agrestis Negroni (Draft)

Greenhook Gin, St. Agrestis Inferno Bitter and sweet vermouth.

$14

Espresso Martini

Van Gogh double espresso vodka, Mr. Black coffee liquor, iced coffee

$14

Pisco Punch

Caravedo Quebranta pisco, *orgeat, fresh lime juice, pineapple juice & angostura bitters

* Orgeat Contains Nuts

$14

Elderflower Spritz

Gin, St. Germain elderflower liqueur, simple syrup, lemon, grapefruit bitters, Cava, rosemary sprig

$14

The Monet

Botanist gin, Cointreau, blood orange, lime, sugar, orange bitters

$14

My novia

Gin, Cruzan coconut rum, coco lopez, fresh lemon juice, raspberry, toasted coconut

$14
Bar Dalia House Shot $5
Whiskey, apricot liquor, fresh lemon juice & simple syrup
Mocktails
Non-Alcoholic Options
Apple Of My Eye

Apple Cider, Cranberry, lemon, demerara, ginger beer

$8

Pancho's Punch

Coconut. raspberry, lemon, pineapple

$8

St. Agrestis "Phony Negroni"

Non-alcoholic Negroni

$12
Groups of 6 or more and tabs left open are subject to a 20% automatic gratuity
Happy Hour M-F till 7pm
$2 off cocktails
$2 off draft beer & wine
$1 off bottle/can beer
Draught Beer & Wine
Schilling Alexandr 10

Czech Pils, NH 5% ABV

16oz $8

Rogue Hazelnut Brown Ale

Rogue Ales - OR 5.6% ABV

16oz $8

Fancy Papers NEIPA

Cigar City Brewing, FL - 6.5% ABV

16oz $8

Black Tie Porter

Torch & Crown Brewing, NY - 5.5%ABV

16oz $8
Cans & Bottles
Bitburger N/A

Non- Alcoholic Beer - Germany

$6

Modelo Especial

Mexico - 4.4% ABV

$6

Modelo Negra

Mexico - 5.4% ABV

$6

Maduro Brown Ale

Cigar City Brewing - Tampa, FL 5.5%ABV

$7

Jai Alai IPA

Cigar City Brewing - Tampa, FL 7.5% ABV

$7

Juice Bomb IPA

Sloop Brewing - New York 6.5% ABV

$8

Rose Cider

Brooklyn Cider - 5.5% ABV

$8

Left Hand Nitro Milk Stout

Left Hand - Colorado, 6.0% ABV

$8

Toppling Goliath Pseudo Sue

Pale Ale - IA 5.8% ABV

$8

Celebration Ale

Sierra Nevada, CA - 6.8% ABV

$8

Victory Golden Monkey

Belgian Style Tripel - Victory Brewing, PA 9.5% ABV

$9

Guava Gose

Collective Arts - Ontario, CA 4.9% ABV

$9

Allagash White

Witbier - ME 5.2% ABV

$9

Nitro S'mores Imperial Milk Stout

Southern Tier, NY - 10% ABV

$10

Mad Elf

Troegs Brewing, PA - Belgian Dark Strong Ale 11% ABV

$10

Sip of Sunshine (16oz)

Lawson's Brewing - VT 8% ABV

$11
Sparkling Wine
Vilarnau Brut Reserva Cava

Spain

Glass $12

Bottle $48

Canard-Duchene Parcelle 181 Extra Brut

Bottle $115
White Wine
Paul Direder Gruner Veltliner

Italy, 2021

Glass $12

Half Carafe $30

Touraine Sauvignon Blanc

France, 2020

Glass $12

Bottle $44

Marques De Caceres Verdejo

Spain, 2019

Bottle $44
Red Wine
Substance Cabernet Sauvignon

Charles Smith Winemaker, 2019

Glass $12

Bottle $45

La Linda Malbec

Argentina, 2020

Glass $12

Bottle $45

Chatxo Rioja Alavesa

Spain, 2018

Glass $12

Bottle $45

Three Finger Jack Cabernet Sauvignon

California, 2019

Bottle $65
Groups of 6 or more and tabs left open are subject to a 20% automatic gratuity
Blanco Tequila
Lunazul Blanco $10

Teremana Blanco $11

Espolon Blanco $11

Espanita Blanco $11

Herradura Plata $13

Siete Leguas Blanco $13

Casamigos Blanco $14

123 Organic (1) Blanco $14

Artenom 1579 Blanco $14

Riazul Plata $15

G4 Tequila Fermentada De Madera Blanco $15

Clase Azul Plata $24
Reposado Tequila
Lunazul Reposado $11

Milagro Reposado $11

Espanita Reposado $12

Teremana Reposado $12

Olmeca Altos Reposado $13

Dahlia Cristalino Reposado $14

Herradura Reposado $14

Siete Leguas Reposado $14

123 Organic (2) Reposado $15

Riazul Reposado $16

Casamigos Reposado $16

Artenom 1414 Reposado $16

Clase Azul Reposado $30
Añejo Tequila
Milagro Añejo $13

Herradura Anejo $15

Siete Leguas Anejo $15

Herradura Ultra $15

Riazul Anejo $17

123 Organic (3) Añejo $18

Artenom 1146 Anejo $18

Don Julio 1942 $38
Specialty Tequila
Patron XO Cafe $11

Patrón tequila and the essence of Arabica coffee

Clase Azul Gold $44

Blend that combines Clase Azul Tequila Plata with a special reposado tequila matured in French oak casks and an Extra Añejo aged in American whiskey casks and finished in sherry casks.
Mezcal
El Buho Mezcal $11

Union Mezcal Joven $11

400 Conejos Mezcal $11

Lopez Real Mezcal Espadin $11

San Cosme Mezcal Joven $11

Montelobos Mezcal Espadin Joven $11

Del Maguey Vida Mezcal $12

XICARU PECHUGA MOLE $12

Ilegal Joven $13

Bozal Ensamble Mezcal $15

Ilegal Reposado $15

Ilegal Añejo $18

Clase Azul Durango $48
Bourbon
Four Roses $10

Buffalo Trace $11

Bulleit $12

High West American Prairie $11

Maker's Mark $12

Jefferson Very Small Batch $12

Elijah Craig Small Batch $12

Angels Envy $14

Woodford Reserve $14

Knob Creek $14

Old Forester 1897 $14

Old Forester 1910 $15

Old Forester 1920 $15

Basil Hayden $15

Blanton's $17
Rye
Old Overholt $10

Rittenhouse $11

Sazerac Rye $11

High West Double Rye! $11

Bulleit $12

Knob Creek $13

Michter's $13

Angels Envy Finished Rye $20
Scotch
Black Bottle Scotch $10

Johnnie Walker Black $12

Highland Park 12yr $14

Laphroaig 10yr $16

Glen Garioch Founders Reserve $16

Glendronach 12yr $17

Benriach The Smokey 12yr $18

Benriach The Twelve $18

Macallan 12yr $19

Port Charlotte 10yr $19

Bruichladdich Islay Barley 2012 $20
Whiskey
Skrewball Peanut Butter Whiskey $8

Jack Daniels $12

Jameson Caskmate Stout ed. $12

J.J. Corry "The Hanson" $13

Suntory Toki $14

Redbreast 12yr $16
Gin
Breckenridge $10

Bombay Sapphire $11

Dorothy Parker $11

Hayman's London Dry $11

Hayman's Old Tom $12

Hendrick's $12

Plymouth $12

Botanist $12

Nolets $13

Monkey 47 $14
Rum
Plantation white $10

Plantation original dark $10

Brinley Coconut Rum $10

Sailor Jerry $10

Ten To One White $10

Kraken Black $10

Dos Maderas 5+3 $10

Kraken Black Roast Coffee Rum $11

Plantation Pineapple $11

Barbancourt 5 Star 8yr $11

Goslings Dark $11

Myer's Dark $12

Smith & Cross $12

Santa Teresa 1796 $12

Dos Maderas 5+5 $12

Ten To One Dark $12
Vodka
Breckenridge $10

Absolut $11

Tito's $11

Ketel One $11

Hangar One $11

Hangar One Citron $11

Hangar One Mandarin $11

Van Gogh Espresso Vodka $11

Hangar One Smoke Point $12

Chopin $11

Grey Goose $12
Amaro & Aperitif
Sfumato $11

Cynar $11

Aperol $12

Campari $12

Fernet Branca $12

Averna Amaro $13

Amaro Nonino $13

Montenegro $14
Others
Stock 84 brandy $10

Caravedo Quebranta Pisco $10

E Dolce Amaretto $10

B&B Benedictine $12

Grand Marnier $12

Chambord $12

Ferrand Ambre 10 Cognac $12

Remy Martin VSOP Cognac $18
Groups of 6 or more and tabs left open are subject to a 20% automatic gratuity
Kitchen Hours
Monday-Thursday: 5-10pm
Friday: 5-11pm
Saturday: 2pm-11pm
Sunday: 2pm-9pm
Taco Tuesdays
Mix and match tacos $4 each all night - min 2 per order
Tacos
Veggie Tacos

sautéed mixed peppers & onions, mushroom, manchego cheese, flour tortilla, jalapeño & cilantro sauce | 2 per order

$9

Pork Belly Tacos

24-hour cured crispy pork belly, onion, cilantro, creamy jalapeño vinaigrette, corn tortilla | 2 per order

$11

Chicken Tacos

Grilled marinated chicken, onion, cilantro, cotija cheese, salsa verde, corn tortilla | 2 per order

$11

Shrimp Tacos

Grilled marinated shrimp, jalapeño & cilantro lime slaw, radish, flour tortilla | 2 per order

$12

Quesabirria

6 hour braised Wagyu beef cheeks, onion, cilantro, folded into a corn tortilla with melted manchego cheese and a side of consommé for dipping | 2 per order

$13

Steak Tacos

Marinated skirt steak, onions, cilantro, corn tortilla, chimichurri | 2 per order

$13
Small Plates
Vegetable Empanada

Black beans, roasted corn, onion, roma tomato, scallion, cilantro, chipotle pepper, mozzarella cheese, jalapeño cilantro dip

$5

Beef Empanada

Ground beef, onion, red & green bell pepper, tomato sauce, chipotle mayo dip

$5

Mixed Olives

Olive oil, oregano, red pepper flakes

$6

Yuca Fries

Cajun spiced remoulade dip

$6

Crispy artichoke hearts

Fried artichoke hearts, garlic aioli, lemon

$7

Maduros

Sweet plantains, crema, cotija cheese

$8

Chicharrón

24 hour cured crispy pork belly, pickled jalapeño & red onion

$9
Shareables
Shishito Peppers

sesame oil, lemon, peanut sauce*

$11

Crispy Brussels Sprouts

Onion, dried cranberries, crumbled pecans, chili pepper flakes, honey dijon vinaigrette drizzle

$11

Add bacon $2

Roasted Corn

Grilled corn off the cob, pimentón oil, crema, grated manchego, bibb lettuce cups

$12

Truffle Potatoes

Crispy potatoes, sautéed mushrooms and shallots, Manchego cheese, fresh rosemary, chimichurri, white truffle oil

$13

Honey Sriracha Chicken Bites

Crispy chicken tossed in our spicy honey sriracha sauce on a bed of arugula, scallion, red bell pepper

$13

Lump Crab Cakes

Pan seared lump crab cakes served on a bed of arugula, grilled corn relish, remoulade sauce

$13

Guacamole & Chips

House made Guacamole & tortilla chips

$13

vegetarian

Spanish Chorizo

Sautéed chorizo, baby spinach, shallots, sherry wine vinegar, Manchego cheese, crispy potato sticks

$14

Coconut Shrimp

Sweet chili sauce

$14

Gambas al Ajillo

Shrimp sautéed in white wine, butter, garlic, chili pepper flakes, with toast points

$15
Mains
Aunt Mary's Arroz con Pollo

Grilled marinated chicken, Spanish rice, olives, pimentos, capers, red peppers, garlic, onion, tomato, side of beans

$16

Chicken Fajita

Grilled marinated chicken, sautéed mixed peppers & onions, salsa verde, sour cream, flour tortillas

$16

Churrasco

Grilled marinated skirt steak, chimichurri, Spanish rice

$18

Add grilled shrimp (3pcs) $6

Steak Fajita

Grilled marinated skirt steak, sautéed mixed peppers and onions, salsa verde, sour cream, flour tortillas

$20
Desserts
Churros

Filled with Bavarian cream. Dulce de leche, reposado chocolate sauce

$8

Campfire S'more Lava Cake

chocolate ganache, graham cracker cake, molten chocolate filling, fluffy marshmallow topping

$9
Groups of 6 or more and tabs left open are subject to a 20% automatic gratuity
Yes! The amazing work on our walls is for Sale!


All of the Artwork is curated by one of our favorite local artists, Alice Lipping. Every two months we will be featuring emerging, local artists exploring different themes for the exhibitions.

Our next curated group show celebrates the 1 Year Anniversary of "The Brick Wall Gallery"! For this show we are featuring returning Artists who have participated in our shows for the past year!
On view from 9/26-11/28/2022
Please join us for our Opening Reception on 10/6 from 6-9pm for some delicious Drink Specials and to meet the Artists!
Scroll down to see more info and get to know our Artists!
If you are interested in any additional info or would like to participate in any future shows please contact Alice directly.
Instagram: @aliceabstract
Download PDF
Kimberly Abbott
Kimberly's art is abstract with influences of nature, with colors leading the emotions of the shapes. Her background in song and dance also lends itself to the lyrical quality of her work. "Abstract is where I feel at home as it allows me to delve deeper into the themes, words, emotions I am aiming to express.
"Finding Magic"

Acrylics on Wood Panel 16" x 16"

$300
AJ The Awful
AJ the Awful is an artist & designer. AJ has many different aesthetics, but is best known for black & white cityscape illustrations.
"Love Wins"

Pen and Ink 17" x 17"

$600
Jeanine Barone
Jeanine Barone is an eclectic creative: she's also an apparel and accessories designer and comedy screenwriter. As a travel writer — her work appears in national and international publications — Jeanine looks for the under-the-radar or the often-neglected venues, photographing even well-known sights from often unusual angles.
"Dreaming of Portugal"

Photograph on Aluminum 8" x 10"

$85
Ashley Bravick
Ashley Bravick is a Wisconsin Native now residing in New York as a still life and fashion photographer. In her free time she practices experimental film photography
"Uptown Bound"

Photography 11" x 14"

$100
Stacey Burgay
Stacey's artwork is guided by emotion, intuition, experimentation and found materials from the streets and walls of NYC. "Tune In" and "Tune Out" are sibling collages. They are made from the exact same source materials but have their own unique characteristics and traits.
"The Mountain Win Again"

Mixed Media Collage 18" x 22" *Payment Plan Options Available (Contact Instagram @staceycollages)

$500
Dawn DeVito
Born and raised in Flushing, Queens, Dawn has found inspiration through the city for her illustrations and photography. Particularly interested in vintage and retro NYC, Dawn tries to find that nostalgia in present day New York and use it in her art.
"NYCTV #4"

Photograph on Samsung S21+ 20" x 24"

$150
Ken Jones
Ken Jones is a self-taught freelance photographer originally from Co. Wicklow, Ireland who now lives and works out of Astoria, New York. When asked "what is photography to you?" Ken's answer is simply this, "It's all about the moment. It's what you see in a split second that you may never see again. Inspiration is everywhere and can strike anytime. From walking down the street to watching your favorite show. Whatever I'm shooting, be it landscapes or people, I want it to be natural and in that moment."
"Linear"

Fine Art Print on Canvas 12" x 12"

$95
Contact Ken at kenjonesstudio.com for any Purchase Inquiries

To view more of Ken's work Please visit: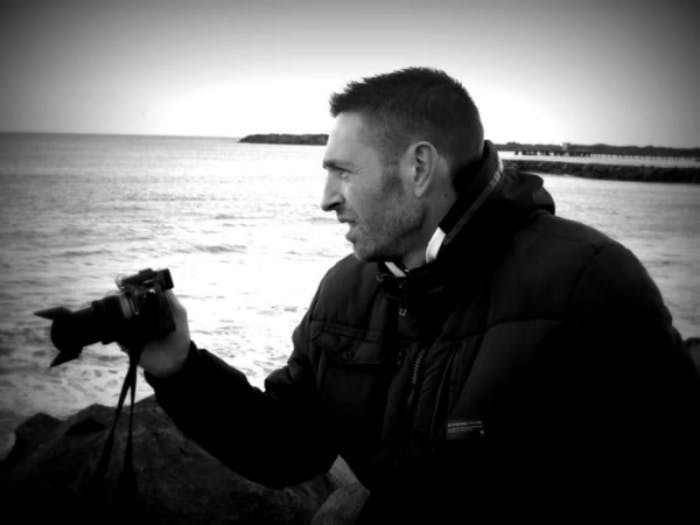 Andre Legaspi
Queens native Andre Legaspi is a New York-based urban landscape and street photographer. He is also a freelance writer whose work can be found on Travel Channel, Frommer's, and other publications. Website- www.andrelegaspi.com
"Hudson Ride"

Sublimated Ink on Aluminum 16" x 24"

$350
Alice Lipping
Alice is an Abstract Artist based in Long Island City, NY. Her work is influenced by nature and the surrounding urban environment. Her paintings explore different ways of mark-making and investigating contrasts, not only through color but through different textures and space. When she isn't making Art, Alice also helps to Promote Local Artists by curating shows in her community.
"Let Me Be Blue"

Acrylic on Canvas 24" x 24" *Payment Plan Options Available (Contact Artist alice@alicelipping.art)

$625

"Feel It"

Acrylic on Canvas 16" x 20" *Payment Plan Options Available (Contact Artist: alice@alicelipping.art)

$425
Mario Saviñon
I've always been fascinated by the alternate reality, myth, and daydreams. Art, whether as a painting, a poem, punk song or a piñata , is just another doorway there.
"Nur"

Acrylic on Canvas 16" x 20" Contact Artist for Pricing
Sandra Vucicevic
SANDRA VUCICEVIC is a New York based multidisciplinary artist of Serbian origin. Her current portfolio includes a large body of vibrant abstract paintings, in which she uses strong color shifts and expressive brush strokes to create imaginary dreamlike worlds. Sandra Vucicevic's paintings can be found in private and public collections around the world.
"Passion"

Mixed Media on Wood 17" Diameter

$500
Contact Sandra at info@artbysandrav.com for Purchase Inquiries

To view more of Sandra's work please visit